Multiple Early Childhood Education Options for Children 3-5 Years Old
Legacy offers three Early Childhood options based on the age and skill level of your child: Preschool for 3-year olds, Pre-Kindergarten for 4-year olds, and Jr-Kindergarten for 5-year olds.
Our Early Childhood teachers give thoughtful consideration to the individual students in their class each year. Your child will learn from a custom lesson plan that evolves and adapts as students' needs change and knowledge levels expand.
Legacy School has a long-standing reputation as a superior preschool in Omaha, winning Best of Omaha accolades multiple years in a row.  Many of our students are referred to the school by families who have enjoyed their experience with Legacy. We'd love to have you join the Legacy family, too.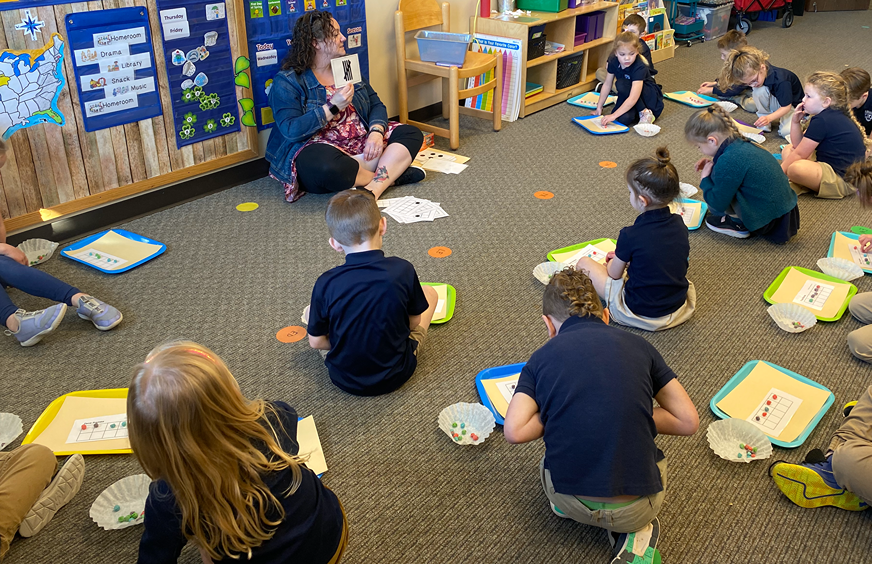 PRESCHOOL
Designed for children who are 3 years old by October 15th.
Legacy School's Preschool program was developed knowing 3-year olds like to work at their own pace as they inquire about the world around them.  Each class fosters and engages fantastic imagination while offering socialization, movement, and hands-on experiences.  Small class sizes give preschool students the much-needed individual attention they deserve.
Our Preschool is a half-day, two-day program with classes on Tuesday and Thursday from 9am-11:15am.
Afternoon Enrichment classes and before/after care are not offered for 3-year-old Preschool students.
PRE-KINDERGARTEN
Developed for children who are 4 years old by October 15th.
Pre-K teachers know how inquisitive and thoughtful 4-year olds can be.  The 9:1 student teacher ratio fosters an atmosphere that gives teachers the opportunity to provide differentiated instruction.  This type of education allows students to make necessary strides in their cognitive, emotional, physical, and social development.
There are three options for Pre-Kindergarten. Choose from:
Monday through Friday: 8:45am-11:30am
Monday, Wednesday, Friday: 9:00am-11:45am
Monday, Wednesday, Friday: 12:30pm-3:15pm
Afternoon Enrichment classes and before/after care are available for Pre-K students.
JR-KINDERGARTEN
Dedicated to children who are 5 years old by November 15th.
The Junior-Kindergarten program is for children who have just missed the Kindergarten cut off or for children whose parents feel they need one more year before Kindergarten.  Students are given the specialized attention needed to flourish emotionally, socially, and cognitively.  Because of this exciting, multisensory educational environment, Jr-Kindergarten students are enthusiastic about learning and become shining examples of school readiness.
Jr-Kindergarten is a five-day program running Monday through Friday from 8:15am-11:30am.
Afternoon Enrichment classes and before/after care are available for Jr-K students.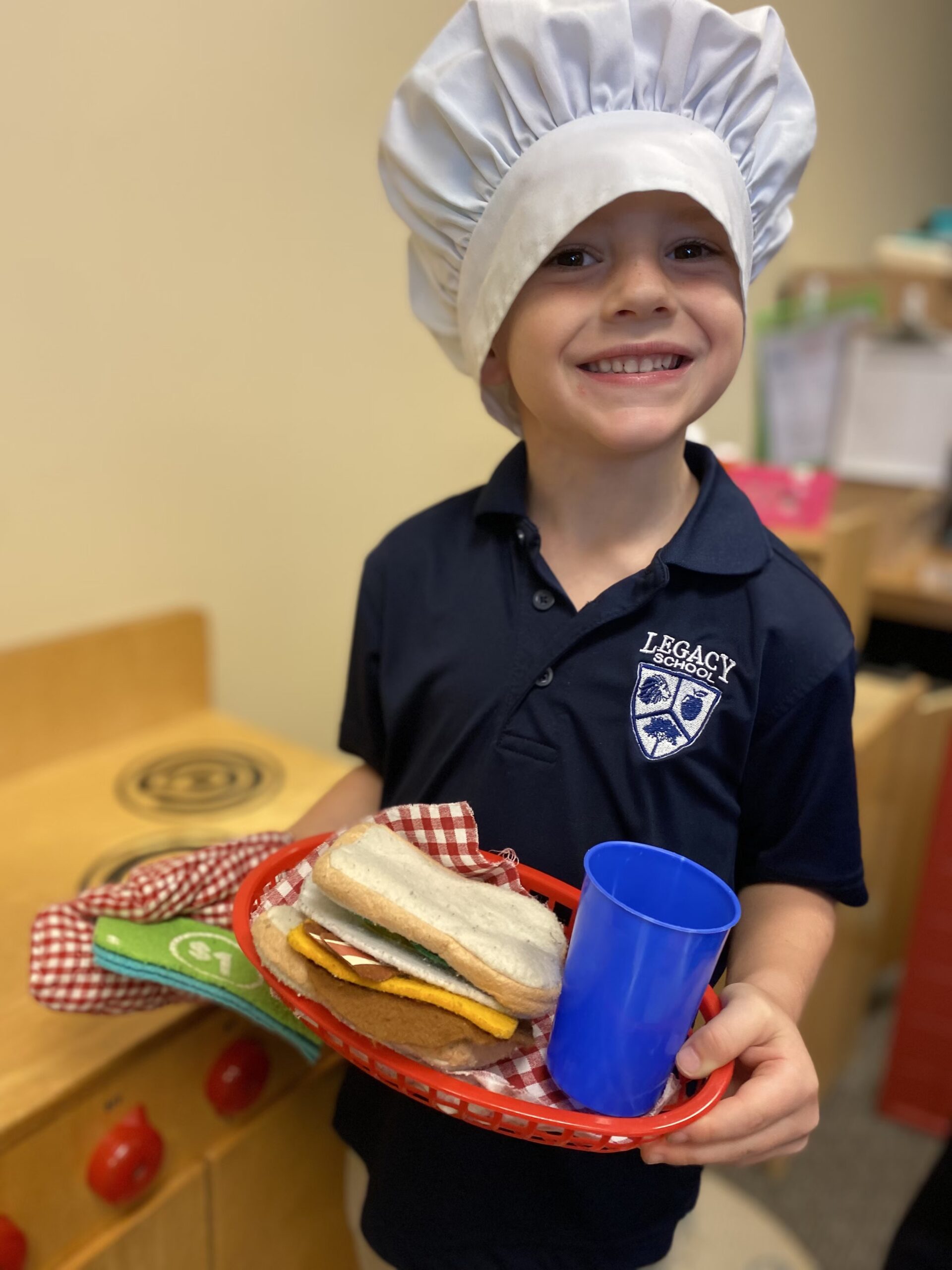 AFTERNOON ENRICHMENT
The afternoon Enrichment Program for Legacy's Early Childhood Education students allows Junior-Kindergarten and Pre-Kindergarten kiddos to experience a full day of learning. Parents may opt to have their child stay for one to five Enrichment Classes a week. It runs from the end of AM class at 11:30am to 3:15pm.
The Enrichment Program is multi-faceted, involving STEAM, Book Club, Healthy Kids, Life Skills, and Art.
STEAM classes offer hands-on experiences with technology and math. Students tinker and build with a variety of manipulatives and engineering-based centers.
Book Club gives students the ability to learn in all different areas through stories. Children practice vocabulary, listening, and fine motor skills. Best of all, they get to act out the stories!
Healthy Kids gets children up and moving while also teaching them how to cook simple healthy snacks and the basics of taking care of themselves.
Life Skills provides young learners with the necessary skills needed in the 21st century. These skills include social skills like communication and collaboration with peers, mental skills like problem-solving and decision-making, and physical skills like tying a shoe or washing hands before a meal.
Art equips children with knowledge of basic art skills and how to implement those skills in their own works of art. Students will learn concepts such as texture, lines, shapes, and colors.
ROTATING CLASSROOMS
All of our Preschool, Pre-K and Jr-K children move to different classrooms throughout their day, allowing them to reset and refocus their attention on absorbing the skills at hand.
Legacy School's Early Childhood Education classrooms are theme-based and adhere to accreditation guidelines established by the National Association for the Education of Young Children (NAEYC) and Nebraska's Department of Education Standards.
The weekly themes serve as a framework for organizing content-area learning.  Students spend their time at school learning and playing in each of the bright, inviting subject-based classrooms.
LIBRARY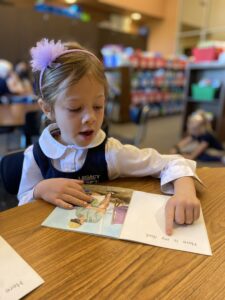 In the Library, reading and writing skills are promoted through pictures, play, print, guided reading, handwriting, journaling, and phonological awareness activities. Teachers use literacy to enhance exposure and plan direct teaching lessons that provide oral and written language experiences.  Centers include writing, alphabet recognition, listening, interactive library, phonics, and age-appropriate literature.
DISCOVERY ROOM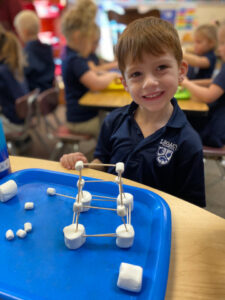 Young children are curious by nature.  Legacy School's Discovery Room allows for the expansion of how a student relates to the world.  In the Discovery Classroom, students explore and investigate through Math and Science activities.  They learn math concepts necessary to become powerful problem solvers.  They become young scientists through experiment and wonder.  Hands-on activities evolve from student interest in their environment while in the Discovery Room.
DRAMA ROOM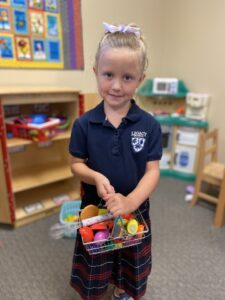 In the Drama Room, children use their imagination while in the various centers: house play, construction site, grocery store, veterinarian clinic, transportation center, theater, post office, flower shop, fruit and vegetable stand, doctor's office, and restaurant.  Research in early childhood education is abundant on the importance of play.  When children simply play, they positively influence their physical, cognitive, and psychosocial development.  The Drama Room gives Legacy students vast opportunities to learn through dramatic play.
MUSIC ROOM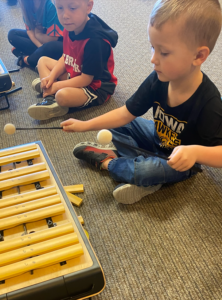 Every class at Legacy School experiences weekly music education. Legacy's music class goes beyond simple song singing, and finger plays.  Like all other Legacy programs, the music education program teaches higher-level skills through age-appropriate lessons. Students are learning rhythm, tone, tempo, pitch, and music reading through song and dance.  Materials utilized are piano, guitar, individual student instruments, scarves, rhythm sticks, and many other "hands-on" educational items.
ART ROOM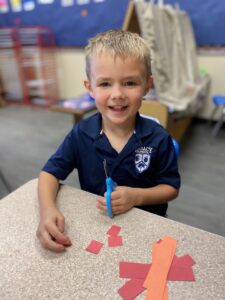 In the Art Classroom, students refine their fine motor skills, eye-hand coordination, and the power of observation by creating and manipulating artworks and experiencing all modes of art using tools such as chalk, sponges, markers, scissors, glue, paint, crayons, and clay.  Students are active learners, as art is a hands-on activity that expands the imagination and exercises creativity.  The Art Classroom allows children to learn the fundamentals of art, recognize patterns, colors, and shapes, and understand composition, balance, and symmetry, all while having fun!
GYMNASIUM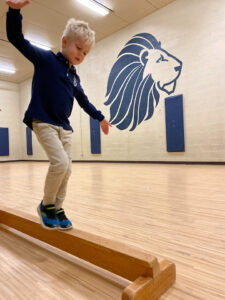 Young children require multiple opportunities for physical activity.  In the indoor gymnasium, students gain control over their gross motor movements using the balance beam, tunnels, scooters, hula hoops, balls, and other gym activities.  They are working on large muscle movements to run, jump, throw, catch, and kick.  Legacy's gym allows for indoor exercise when students cannot be outdoors on the 11 acres of land.
SCIENCE CENTER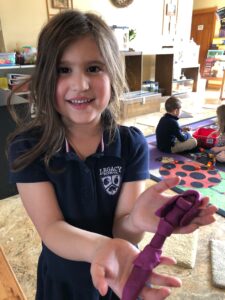 Legacy School's Science and Nature Center provides students with hands-on educational activities led by Science Specialist, Mrs. Pierce. Students explore topics such as ecosystems, energy sources, weather and climate, space, and many more science-based topics. Students also study different animals and reptiles as they appear in their natural environment and throughout the 11 acres. Legacy currently has 3 goats, 5 chickens, bearded dragons, a tortoise, geckos, green anoles, Bahama anoles, and corn snakes.
OUTDOOR NATURE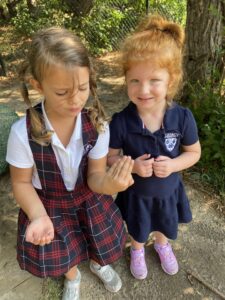 Research shows children need connections with the natural world as part of their healthy growth and development.  Legacy School connects our students to nature through the 11 acres of outdoor learning areas.  Students take an active role while they participate in exciting hands-on, motivational activities such as giant tree block building, nature art area, sand play, tree stump stools, nature trails, and more.  Rocks, shells, pinecones, magnifying glasses, insect specimens, shovels, twigs, and other nature tools are all part of the educational fun in the outdoor nature experiences.
OUTDOOR PLAY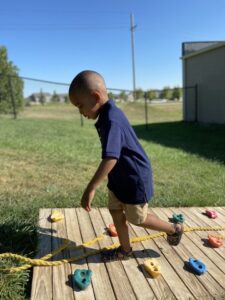 Outdoor play is fundamental to any early childhood program.  There are multiple developmental tasks that children must achieve that can most effectively be learned through outdoor play: exploring, risk-taking, fine, and gross motor development.  In a culture that sees less and less outdoor play and more TV/computer time, it is critical for the health and development of children to get outside.  Students at Legacy School practice gross motor skills while outside on our 11 acre campus.  Legacy School's property includes two playgrounds, a baseball field, soccer field, obstacle course, basketball court, Gaga pits, swings, teeter-totters, sand pit and walking trails.  Climbing, sliding, kicking, catching, throwing, and other outdoor recess activities are all part of the fun!
EARLY CHILDHOOD TESTIMONIALS
My preschooler attends Legacy, and I would like to share our experience! We were initially drawn to Legacy by the dozens of glowing word-of-mouth recommendations we received, specifically for the high academic standards and small class sizes. As a former teacher, I know exactly how important development is during these early formative years. We are confident our son is in capable hands at Legacy! The parent/teacher communication via a secure app is easy and effective. The students learn, explore, play, experience, and problem solve, all while learning! We know that outdoor learning opportunities are vital to our son's development, and Legacy allows and encourages this to the fullest. Overall, we are very satisfied with our experience and look forward to many years as part of the Legacy family!
When choosing early education for our daughter, we were looking for a school with a child-centered approach. We loved Legacy's small size and the commitment to various aspects of education, including an emphasis on time outdoors utilizing their multi-acre facility, music, art, and drama. Watching our daughter grow into a student, classmate and friend has been amazing. We cannot believe how much she has learned socially and academically in two short years. Our daughter LOVES school, and Legacy has been instrumental in instilling a love for education in our five-year-old, which has been priceless.
Both our son and daughter have gone to Legacy School, and we have seen tremendous academic and social growth. We love the small class sizes and variety of subjects the kids learn. Legacy has made an immense difference, as our daughter scored above average on her standardized testing. In addition, the children get outside every day to explore things like science, gardening, and PE. Legacy School has made a huge difference in our children's development!
Legacy is an extraordinary school. My daughter attends five days a week for pre-k and has shown so much growth from the beginning of the school year. She loves school and asks every day if it's a "school day." She comes home daily smiling and is excited to talk about her day! The teachers and staff are exceptional. She also attends the Extended Care Program, which is a wonderful before/after school program!
Legacy School has been one of the most important parts of our children's development. Outdoor learning and specially themed classrooms help develop the whole child. Our kids are being taught by excellent, experienced teachers who have detailed plans for learning. My kids come home talking about outdoor adventures, science lessons, and drama play. My children are constantly challenged academically, and differentiation is evident. My children's teachers have so much data to share with me about their academic and emotional development. There is no more developmentally appropriate placement for my kids than Legacy School. It is one of a kind!