Work in a dynamic, passionate, student-centered school environment
Legacy School in Omaha, NE offers a private school setting for parents looking for high academic standards, small class sizes and exceptional teaching. Legacy School's teacher-run approach delivers the highest quality of education through literacy-based, differentiated instruction, giving students the best opportunities to achieve curriculum standards. Our inviting, safe, student-centered environment caters to the individual educational needs of each student.
The school was created in 2008 by two former teachers who remain highly involved with the daily interactions at the school. They understand the needs of teachers, as well as how to support students throughout their learning journey.
Legacy School is an equal opportunity employer. Employment decisions are based on merit, qualifications, and experience. No applicant or employee will be discriminated against based on race, gender, religion, sex, age, national or ethnic origin. We hope you will consider joining our team!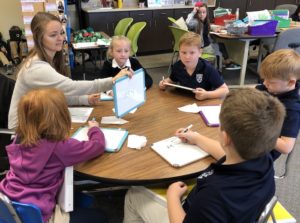 TEACHER BENEFITS
Benefits vary by position, but in general, full-time teachers receive:
Ability to adjust classrooms curriculum based on the needs and progression of your students, allowing them to learn at their pace and in their style
Small class sizes, with a full-time teaching assistant assigned to each classroom creating a 9:1 student-teacher ratio
Access to our 11-acre campus, allowing the freedom to move learning outside and have a nature-based recess
Discounted tuition when enrolling your own children at Legacy
Ongoing support within an internal team environment
Strong parent-teacher relationships built upon mutual respect
Group health insurance options
Company-matched 401K
Direct paycheck deposit
Casual, yet professional, dress codes with Spirit Days every Friday
Access to meals in our Farm-to-Table cafeteria
EMPLOYMENT OPPORTUNITIES
APPLY NOW
Please attach your cover letter and resume to the form below and submit it. Thank you.
If you don't see an opening for the position you are seeking, please submit your resume to bweber@legacyschoolne.com. We will keep it on file for future opportunities.