Welcome to Legacy School
Legacy School offers a nonsectarian, private school setting for parents looking for high academic standards, small class sizes, and exceptional teaching.  Legacy School's distinct educational approach delivers the highest quality of education through literacy-based, differentiated instruction, thus giving students the best opportunities to achieve curriculum standards.  Our inviting, safe, student-centered environment caters to the individual educational needs of each student.
9:1
Student / Teacher Ratio
11 Acres
Outdoor Learning and Play
Voted Best of Omaha 2023!
Legacy School is honored to be named Omaha's "Best Preschool" and a top winner of "Private School – Elementary School." Year after year, we are overwhelmed by the support and kindness of Omaha and its surrounding communities. We genuinely thank each one of you for your vote!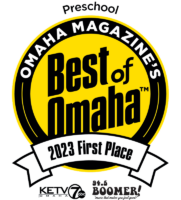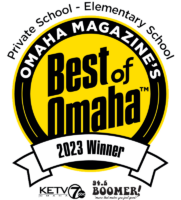 EXPERIENCE A 360° VIRTUAL TOUR
Take a 360-degree peek inside Legacy's classrooms and experience the vast outdoor areas.
TESTIMONIALS
Many things set Legacy School apart, but three qualities make it truly unique. The quality of teachers, small class sizes, and differentiated instruction mean children get an education that's tailor-made just for them. At Legacy School, you find teachers who truly care about your children – who take the time to get to know them, their unique learning styles, their strengths, and weaknesses – and then educate to them. I never expected my son to love school, but at Legacy School, every day has been a great day. That's not an exaggeration. He bounds home after school each day, excited about what he has accomplished. When you find a school that works to make every day a 'great day' for all of its kids, fostering their independence and creativity and offering an exceptional level of instruction, you know you've found the best.
The staff at Legacy School is tremendous — caring, kind, and completely focused on helping the kids learn, grow, and have fun together. The school puts a huge focus on giving back and offers opportunities to give each month through their Giving Tree.  And, they go above and beyond by hosting school parades during Halloween, making Christmas programs super special, hosting a Grandparents Day, a Dads & Donuts day, and the very best of all, a Mother's Day Tea.  Our child loves the teachers, aides, and staff.  I would highly recommend Legacy School to anyone looking for a great school!
I am proud to say our family was with Legacy from the beginning.  I watched two dedicated teachers' dreams grow into a beautiful school my children looked forward to attending each day.  As a school parent, it is very evident each decision Mrs. Baca and Mrs. Pedersen make for their students is done so with great care.  They have handpicked the very best of teachers and teachers' aides to nurture and educate their students.  The curriculum is set at each child's pace, and from what I've seen, each child has their moment to shine.  I encourage you to tour the school because their set up is so innovative with an area of interest for every child.  Legacy School has given my children a real love for learning, which is very important to their educational journey.
Our daughter attended Legacy School when they opened their doors in 2008.  While attending Legacy, she grew an incredible amount – not only academically but also emotionally and socially.  We credited this growth to the staff, and the program Legacy School provides.  We feel extremely blessed that we found such a wonderful school and caring, educated teachers.  Legacy School is such an asset to this community and is truly beneficial to the children that attend.
LEARN ABOUT LEGACY SCHOOL
THE LEGACY SCHOOL ADVANTAGE
A New Choice in Education
Take Your Tour
Thank you for your interest in Legacy School. We encourage you to schedule a tour and see what makes our school unique!
Small class sizes, differentiated instruction, and high academic standards all in a private school setting. Our 11 acres of land provide an outdoor education you will not see anywhere else.
We invite you to tour our school today!
Outdoor Education
Legacy School is situated on 11 acres of land, allowing for expressive, outdoor educational experiences for all our students.
Children get to learn on their own terms in an environment surrounded by a barnyard that holds both chickens and goats, a farm to table garden, a baseball and soccer field, an obstacle course, and much more.
Our outdoor learning and playing space allows for real-world experiences that cannot be found anywhere else.
Legacy Scholarship
Legacy School is proud to unveil our new Legacy School Scholarship Program.  Students who attend Legacy from 1
st
-5
th
grade are eligible for a $500 scholarship towards higher learning.  This scholarship can be used for college or trade school upon graduation from high school.
We are very excited to give back to our students.  We know each child has the potential to succeed at whatever goal they set for themselves.
We can't wait to help your student celebrate their high school accomplishments and continue to their higher education.