Legacy School offers a variety of classes for Preschool, Pre-Kindergarten, Kindergarten and Elementary students.  School tuition is unique to the classes and programs in which a student is enrolled.
The administrators are educators with over 45 years combined teaching experience.  All teachers at Legacy School hold Bachelor or Master Degrees in Education.
Legacy School offers a nonsectarian, private school setting for parents looking for high academic standards, small class sizes and exceptional teaching.  We believe in giving families access to the highest quality of education by offering an educational choice for their child(ren).
We hold the highest educational expectations for students, as they attain their greatest potential.  The focus of our school's standards is to supply our students with the necessary learning tools to become lifelong learners.
Legacy School maintains low student-teacher ratios and places teacher assistants in every classroom to ensure students receive the individual attention they deserve.  Students have an educational advantage while attending Legacy School, as they are taught on their level and at their pace.
Come, take a tour and see a new choice for your child's education.
Additional Academic Information Regarding Elementary
Legacy School's private elementary classrooms offer a place for students to excel beyond the typical standards.  The focus of the elementary curriculum is to supply the necessary skills that allow students to become lifelong learners.  Legacy School holds the highest educational expectations for students, as they attain their greatest potential.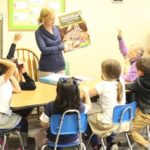 Teachers draw on a variety of sources to best support each student's learning capabilities.  Rather than "teaching to the middle," Legacy School fosters an atmosphere where each student's intellect, curiosity and growth is nurtured on his/her level.
Students at Legacy School do not get lost in the crowd, as class sizes are extremely small in comparison to other Omaha private and public schools.  Along with an experienced, exceptional teacher, every class has the support of a full-time teacher's assistant.  Having this team of educators in every classroom allows for the flexibility necessary to educate the whole child, based on individual needs.
Legacy School's combination of differentiated instruction, small class size and teacher/assistant teams provides students with an educational advantage, as they become enthusiastic learners and independent thinkers.  In addition to Legacy School's exceptional educational approach, the 11 acres of outdoor learning and playing space outside the physical building allows for real world experiences that cannot be found anywhere else.
FIND OUT MORE
We'll be happy to answer any questions