Legacy School Celebrating 15 Years In Education
Legacy School, located in Bennington on an 11-acre campus, is a one-of-a-kind private, nonsectarian school created by two former teachers.
After leading elementary classrooms in the public sector for 16 and 13 years respectively, Kelly Pedersen and Buffy Baca decided it was time to make a major change. Instead of working within a school system focused on test scores with a one-size-fits-all approach, they set out to create a school that placed pacing decisions in the hands of the teachers, allowing them to adapt and change their classrooms as their students evolve.
The school started as an early childhood education program at 168th & Blondo and quickly became highly sought after by families with young children. Within a few years, it was time to think bigger. After researching schools and camps on the east coast, their vision became clear: create a private school spanning preschool through 5th grade that incorporates the outdoors and flexible learning environments. Additionally, the campus would be transformed into a day camp throughout the summer and over winter break, creating a year-round learning environment where children could thrive.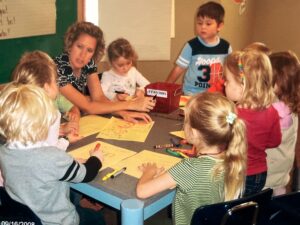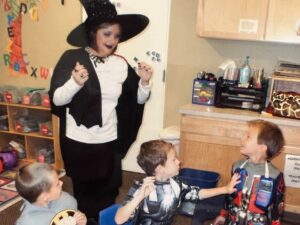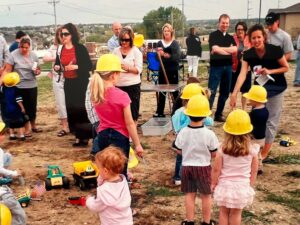 After a few years looking for the perfect location, it was finally found near 166th and Ida Street. Construction began and in the fall of 2016, the school opened in its current location at 6860 N. 166th Avenue. It is home to a 12-classroom building, a separate science classroom with a private vegetable garden, baseball fields, pickleball court, two pools, a barnyard with chicken and goats, a zipline and more. The campus offers the opportunity for teachers to take learning outside to explore nature and outdoor education.
As the school grew, the mission always remained at the core. "Legacy gives our students an educational advantage because they are taught on their level and at their pace. The combination of differentiated instruction and teacher empowerment allows students to become enthusiastic learners and independent thinkers," says Baca. Plus, small class sizes are a priority. Pedersen adds, "Legacy School maintains low student-teacher ratios and places teacher assistants in every classroom to ensure students receive the individual attention they deserve."
This fall marks 15 years since the first Legacy preschool classrooms were taught by Pedersen, Baca and two other staff members. Now, the school hosts approximately 300 students each year and 625 campers each summer.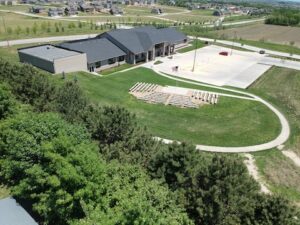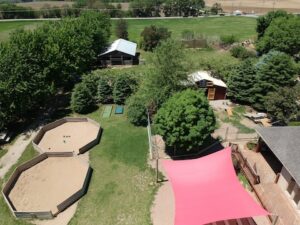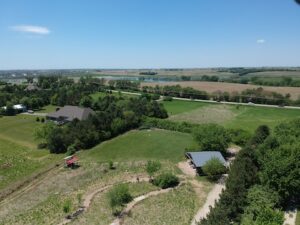 Join Us At An Informational Meeting
On October 10, 2023 Legacy will host an Informational Meeting for all parents interested in enrolling for the 2024-25 school year and beyond. The evening will kick off with a few words from school founders, Kelly Pedersen and Buffy Baca. They will share the philosophy and mission of the school, plus their visions for the future. Afterward, families will hear from the principal, classroom specialists, the Extended Care Director, and the Camp Legacy Directors. Members of the staff will then lead campus tours and answer questions.
When: October 10, 2023 from 5pm-7pm
Where: Legacy School, 6860 N. 166th Ave, Omaha, NE 68116
Who: Parents interested in enrolling students for the 2024-25 school year and beyond
Milestones
2008: Opened Legacy School on Blondo Street
2009: Added Extended Care and Started Kindergarten
2010: Introduced Giving Tree
2011: Split Rooms to Accommodate Growth
2012: Purchased Property at 166th & Ida
2013: First Camp Season at New Property
2014: Started Expansion Efforts
2015: Construction Began on New School
2016: New School on 166th Ave Open for Preschool Through 2nd Grade
2017: 3rd Grade Added
2018: 4th Grade Added and Introduced the Barnyard and Garden
2019: 5th Grade Added
2023: 15th Anniversary
About Legacy School:
Legacy School is a private, nonsectarian early childhood and elementary school located on 11-acres of land in Omaha, NE. All teachers hold Bachelor or Master Degrees in Education, and each classroom is assigned a teacher and TA, creating a 9:1 student-teacher ratio. These classroom leaders are given the authority to create and adapt lesson plans based on individual student needs and educational levels.
Key Dates:
August 23, 2023         First Day of 2023-2024 School Year
October 10, 2023        New Parent Informational Meeting and Tour
February 1, 2024        Enrollment Opens For New Families For 2024-2025 School Year
Contacts:
Angie Stock, Director of Marketing and Communications // astock@legacyschoolne.com
Buffy Baca, Head of School // bbaca@legacyschoolne.com
Kelly Pederson, Head of School // kpedersen@legacyschoolne.com