10 reasons to be a Legacy Lion.
Each Monday throughout the summer, we had posted one reason a week to be a Legacy Lion. Check them all out as a comprehensive list!
#1 Small Class Sizes
Students at Legacy School do not get lost in the crowd, as class sizes are extremely small in comparison to other Omaha private and public schools. Each classroom has a teacher as well as a teacher assistant and is capped at 18 students. Our small classes allow Legacy School teachers to work on each child's specific reading and writing needs. This allows kids to excel and attain the highest curriculum standards.
#2 Differentiated Instruction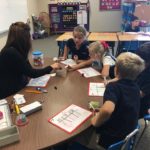 At Legacy School teachers understand that students have differing needs when it comes to learning. That's why we use a differentiated instruction approach in which teachers proactively plan their lessons based on their students strengths. With this style of learning, teaching is evolutionary as students and teachers learn together. While the teachers may know more about the subject at hand, they are always learning about how their students learn. In turn, teachers are able to refine each child's learning experience by providing learning activities that cater to the students' strengths, not by a one-size-fits all learning approach.
#3 ELEVEN ACRES OF LAND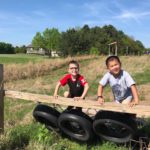 Legacy School is situated on 11 acres of land, allowing for expressive, outdoor educational experiences for all our students. Children are able to learn on their own terms in an environment that is surrounded by a barnyard that holds both chickens and goats, a farm to table garden, a baseball and soccer field, a obstacle course, and much more. Our outdoor learning and playing space allows for real world experiences that cannot be found anywhere else.
#4 Project Based Learning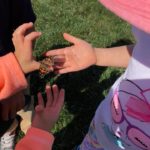 The old-school model of learning facts and reciting them is no longer sufficient to prepare students to survive in today's world. Through the Project Based Learning approach, students receive both fundamental skills (reading, writing, and math) and 21st century skills (teamwork, problem solving, and research gathering). With this combination of skills, students become directors and managers of their learning process, as they are guided and mentored by a skilled teacher.
Pictured is one of our many Project Based Learning activities. Every year, each class receives caterpillars in which students document the caterpillars progress and studies the lifecycle of a caterpillar. When the students let the butterflies go, they work together to send them off.
PBL is not just a way of learning; it's a way of working together.
#5 All teachers at Legacy School hold Bachelor or Master Degrees in Education
Because of the competencies early educators must have to guide development effectivity, we require all of our teachers, Preschool-6th Grade, to hold at least a Bachelors Degree in Education. With a degree, our teachers have the skill, experience and knowledge to structure learning experiences that guide the development of children's creative problem solving and conceptual thinking.
#6 Testing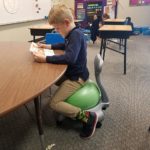 Testing at Legacy School is quite different than other schools in the Omaha area. Other schools deliver the material and then test the students to see if they "got it". At Legacy School, we test the students first to determine their individual strengths and weaknesses. Then, we deliver the material through differentiated instruction, allowing the student to learn on their own level at their own pace.
#7 Small community, completely teacher run
Legacy School was founded by two teachers and only hires degreed/certified educators. This means teachers fully participate in the school's decision-making processes, which promotes meaningful collaboration and harmonious work relations between teachers and administration. Doing so generates passion for accomplishing goals and boosts student and teacher productivity.
#8 Parent-Teacher Communication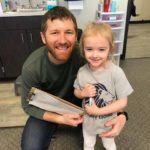 At Legacy School the administrators and teachers realize the importance of parent-teacher communication. The more parents and teachers share relevant information with each other about their student, the better equipped both will be to help that student achieve academically.
Two-way communication that Legacy uses include:
Weekly Newsletters
Annual Back to School Night
Parent-teacher conferences
Phone calls
E-mail
School website
Remind
Social media
#9 Giving Back to the Community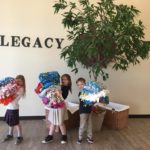 Legacy School students are involved in several service projects throughout the school year. Each project gives our young learners a sense of community and caring. Examples of organizations that we have helped include the Food Bank for the Heartland, The Bethlehem House, The Open Door Mission, Ted E. Bear Hollow, and many more. In the past, we've also had families at our school that were mission workers in other countries. With their help, we have built a well in Mali, West Africa in 2012, and have sent shoes to children in Nairobi, Kenya in 2016.
Do you have a non-profit organization that your family enjoys helping? Legacy School would love to hear about it! We always are looking for new organizations to support!
#10 We Are Family
At Legacy School, we are a family. Every day you can expect a hello throughout the school from staff and from other parents. Many parents get to know each other by attending events such as the Fall Festival, Parent Bonfire, Halloween Hoopla, Donuts with Dad, Mother's Day Teas, and the Spring Fling. These events are not only a time for your student to shine, but also a great time to engage with other parents to create meaningful, lifelong friendships.