Kids love getting into the Valentine's Day spirit! With Valentine's Day centered around love and friendship, we can't help but have warm, fuzzy feelings about this special day; parents and children alike. Start making family traditions with these 6 ways to celebrate Valentine's Day with your kids.
(1) "I Donut Know What I'd Do Without You" – Start Your Day with a Donut
Start the special day with a sweet treat! Many donut shops offer unique Valentine's donuts in the shape of hearts. While you're there, add a coffee to your order! Coffee and donuts bee-long together!
(2) "Love your library"- Check out a Valentine's book
Next, head to your local library and check out a Valentine's book. Below are some of our favorite Valentine's Day books, which are filled with heartwarming stories of friendship and fun.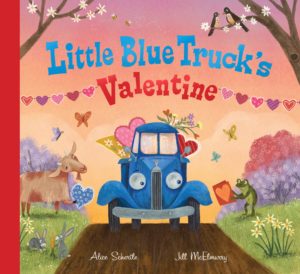 Little Blue Truck's Valentine
Ages 4 and up
Join Little Blue Truck as he delivers Valentine's Day cards to all his farm animal friends.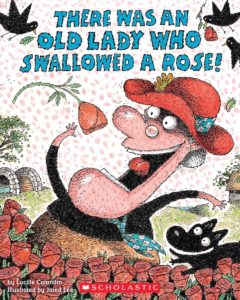 There Was an Old Lady Who Swallowed a Rose
Ages 3-5
That lovely old lady has returned just in time for Valentine's Day. Now she's swallowing items to make an extraordinary gift for her valentine!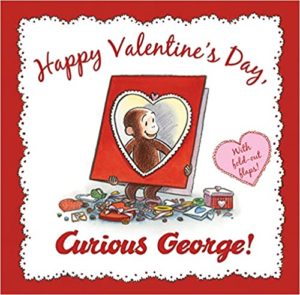 Happy Valentine's Day, Curious George
Ages 4-7
Just how much mischief can a curious little monkey get into when balloons, frosting, and glitter are involved?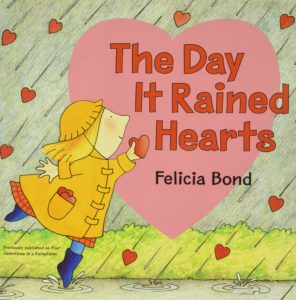 The Day it Rained Hearts
Ages 4-8
One day it rains hearts, and Cornelia Augusta catches them. She realizes that the hearts are perfect for making valentines. Each heart is special in its own way, and Cornelia Augusta knows exactly who to send them to: her animal friends.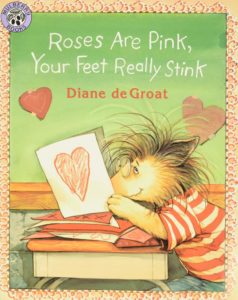 Roses are Pink, Your Feet Really Stink
Ages 4-8
Gilbert is all set to write fifteen friendly valentine cards to his classmates. But how can he write a nice poem for the boy who tweaked his nose, or the girl who made fun of his glasses? Instead, Gilbert writes two not-so-nice valentines…and signs the wrong name on both! When his classmates read his poems, their feelings are hurt, and Gilbert's prank quickly turns into pandemonium. But with the help of a friend and an honest apology, there's always time for a change of heart on Valentine's Day.
(3) "Thumb Body Loves You"- Get crafty
Continue the day with a craft at home!
Thumbprint Valentine's Cards
Make a unique Valentine's Day card to send to family near and far from your little one! This easy craft only requires an ink pad (or paint) and cardstock. Make it extra fun by adding scrapbook letter stickers!
Paper Plate Love Birds
A great craft for a school-aged child! Children can add color and patterns to make their love birds stand out from the flock.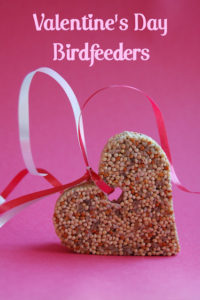 Valentine's Day Bird Feeders
We love nature!! And the animals that live within it. Show the outdoors some love and make a Valentine's Day Bird Feeder!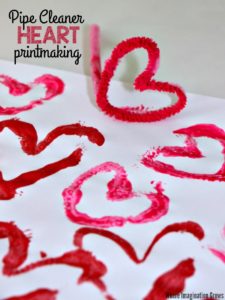 Pipe Cleaner Heart Print Making
Need a last-minute craft that doesn't take much time? Make heart prints with this piper cleaner craft. All you need is three easy supplies: pipe cleaners, paint, and cardstock.
(4) "The Best Way to Spread Valentine's Cheer is By Loving Those Far and Near!" – Give a Gift
Do you have a relative or neighbor that might not have someone to celebrate Valentine's with this year? Make their day by delivering them a bouquet of flowers or hand make a card! Or brighten someone's day by smiling at them!
(5) "You Took A Pizza My Heart" – Make a Valentine's Pizza or Order One
For dinner, make a Valentine's Day pizza as a family!
Ingredients for your heart-shaped pizza

1 can of pizza crust
1 can of pizza sauce
3/4 cup of shredded cheese
Additional Toppings: add hamburger, pepperoni, or canadian bacon. Or make it all veggie!!
Short on time? Visit your local Papa Murphy's and get a Valentine's Day take-and-bake pizza. Choose between cheese or pepperoni. Order yours online today between 2/1 and 2/14 at: bit.ly/3DDu77f — Prices vary by location.

(6) "Cozy up!" – End the Night with a Movie
Grab your favorite blanket and cozy up on the couch with one of these classics! Inspired by love, these movies are the perfect way to end a Valentine's Day!
Up
Shrek
Beauty and the Beast
Lady and the Tramp
The Legacy Private School in Omaha Advantage
A New Choice in Education
Take A Tour
Thank you for your interest in Legacy School. We encourage you to schedule a tour and see what makes our school unique! Small class sizes, differentiated instruction and high academic standards all in a private school setting. Our 11 acre campus provides an outdoor education you will not see anywhere else. We invite you to come tour our school today!
Outdoor Education
Legacy School sits on an 11 acre campus, allowing for expressive, outdoor educational experiences for all students. Our outdoor learning and playing space allows for real world experiences that cannot be found anywhere else. We utilize our unique location, with 11 acres of land for outdoor education and outdoor play, thus giving students a chance to spend more time in an outdoor education setting. New to Legacy School is a barnyard that holds both chickens and goats and a farm to table garden.
Legacy Scholarship
We are proud to unveil our new Legacy School Scholarship Program. Students who attend Legacy from 1st-5th grade are eligible for a $500 scholarship towards higher learning. This scholarship can be used for college or trade school upon graduation from high school. With that said, we are very excited to give back to our students as we know each child has the potential to succeed at whatever goal they set for themselves. We can't wait to help your student celebrate their high school accomplishments and for them to continue onto their higher education journey.