Just as each person has a unique personality, every student has an individual learning style. Allow your child to learn on their level at their own pace through differentiated instruction.
What is Differentiated Instruction?
Unlike a "one-size-fits-all" approach, differentiated instruction is a unique way of teaching. It allows teachers to provide each student with a personalized path of learning. In doing so,  teachers continually assess to identify students' strengths and areas of need. That way, they can meet students where they are and help move them forward.
Differentiated Instruction in a Legacy Classroom
When walking into a Legacy School classroom, you won't observe students completing worksheets or desks in rows. Instead, you will find small groups of students working together with either a teacher or teacher's assistant. Having small class sizes allows for small group work in which students learn alongside their teacher as they engage in meaningful discussions.
Mrs. Vandiver, a Kindergarten teacher at Legacy School, states, "Differentiated instruction sets students up for success by allowing each student to learn at his or her own pace. When students learn at their instructional level in a small group setting, it can help them feel more confident as a learner, which can set them up for success for years to come!"
Mrs. Vandiver teaches her students based on their individual needs and their level. For example, during Reading, while one group might be identifying consonants at the beginning of words, another group might be working on vowel sounds within words. In the same sense, one group might be identifying the beginning, middle, and end of a story by reading the pictures, and another group might be working on one-to-one matching by pointing to each word as they read.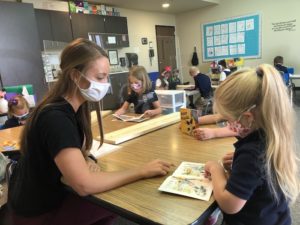 The Legacy Private School in Omaha Advantage | Private Schools Nebraska
A New Choice in Education
Take A Tour
Thank you for your interest in Legacy School. We encourage you to schedule a tour and see what makes our school unique! Classes, differentiated instruction and high academic standards all in a private school setting. Our 11 acres of land provide an outdoor education you will not see anywhere else. We invite you to come tour our school today!
Outdoor Education
Legacy School sits on 11 acres of land, allowing for expressive, outdoor educational experiences for all students. Our outdoor learning and playing space allows for real world experiences that cannot be found anywhere else. We utilize our unique location, with 11 acres of land for outdoor education and outdoor play, thus a chance to spend more time in an outdoor education setting.
Legacy Scholarship
We are proud to unveil our new Legacy School Scholarship Program. Students who attend Legacy from 1st grade are eligible for a $500 scholarship towards higher learning. This scholarship can be used for college or trade school upon graduation from high school. We are very excited to give back to our students. We know each child has the potential to succeed at whatever goal they set for themselves. Can't wait to help your student celebrate their high school accomplishments and continue to their higher education.