The school year has begun! And, to kick it off, Legacy School is hosting a Family Tailgate night for Omaha students and their parents, Monday, September 9th from 5:30 p.m. to 7:30 p.m. During the family-friendly tailgate, meet new and reconnect with old friends and become apart of the Omaha private school Legacy community!
Family Tailgate Catering By Hy-Vee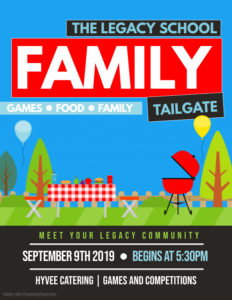 Hy-Vee will be bringing their grill to grill hot dogs and hamburgers. In addition, each meal will include chips, a cookie, and a water bottle. Hamburger meals are $5 each and hot dog meals are $4. Meals must be pre-ordered by Wednesday, September 4th, 2019, to ensure food quantity.
Family Tailgate Games
After you get your hot dogs and hamburgers, let the games begin! That's right, what would a tailgate be without games? We'll have classic games such as cornhole, gaga ball, sand volleyball, disc golf, spike ball, and have we mentioned archery? Each game will have a staff volunteer, so if you need help, they'll be right there!
Family Tailgate Order Forms
Order forms for food were sent home in folders on Back-to-School night and are due back to the school by Wednesday, September 4th, 2019 (No Late Turn-in's).  They can be handed into either the office or the Extended Care Desk. If you need a new one, you can pick one up on the informational table inside the lobby.
We'll see you there for the fun!
The Legacy Private School in Omaha Advantage | Private Schools Omaha
A New Choice in Education
Take A Tour
Thank you for your interest in Legacy School. We encourage you to schedule a tour and see what makes our school unique! Classes, differentiated instruction and high academic standards all in a private school setting. Our 11 acres of land provide an outdoor education you will not see anywhere else. We invite you to come tour our school today!
Outdoor Education
Legacy School sits on 11 acres of land, allowing for expressive, outdoor educational experiences for all students. Our outdoor learning and playing space allows for real world experiences that cannot be found anywhere else. We utilize our unique location, with 11 acres of land for outdoor education and outdoor play, thus a chance to spend more time in an outdoor education setting. New to Legacy School this year is a barnyard that holds both chickens and goats and a farm to table garden.
Legacy Scholarship
We are proud to unveil our new Legacy School Scholarship Program. Students who attend Legacy from 1st grade are eligible for a $500 scholarship towards higher learning. This scholarship can be used for college or trade school upon graduation from high school. We are very excited to give back to our students. We know each child has the potential to succeed at whatever goal they set for themselves. Can't wait to help your student celebrate their high school accomplishments and continue to their higher education.