At Legacy School, it's easy for students to get excited about Music Education! It just comes naturally to them! We interviewed Music Specialist, Ms. Gena Fritz, to see why. 
About Music Specialist Ms. Gena Fritz: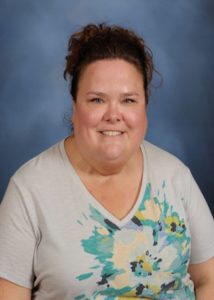 My name is Gena Fritz, and I attended Peru State College, where I received my bachelor's degree in Music Education: PreK-12th grade, Vocal and Instrumental. This year is my third year at Legacy School, and I am our Music Specialist!
Music Education: An Interview with Music Specialist Ms. Fritz
1.) Legacy School: Why do you love teaching music at Legacy School?
Ms. Fritz: I love teaching music, period. The fact that I get to do it at Legacy School is a privilege. First, the staff is out of this world – teachers, assistants, office staff, everyone. Also, the students are fantastic! Because of smaller class sizes, I get to develop relationships with each of my students and give them the individualized attention they deserve. I've taught in larger schools, and let me tell you, Legacy's small class sizes are a big deal! 
2.) Legacy School: Why did you choose music Education as your career?
Ms. Fritz: My passion is sharing the joy and power of music! Even at a very young age, I felt that music chose me, as my entire childhood lead me to teach music of all kinds. My first 'teaching gig' was at the age of 13 – running the music program for vacation bible school. It was so natural that I instantly knew teaching music was what I wanted to do.  
3.) Legacy School: Why is music Education so crucial at a young age?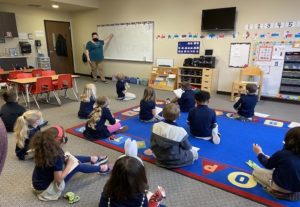 Ms. Fritz: Music Education accelerates brain development in young children, particularly in the brain areas responsible for processing sound, language development, speech perception, and reading skills. 
Music also ignites child development and provides school readiness skills, including intellectual, social-emotional, motor, language, and overall literacy. Exposing children to music during early development helps the BODY and MIND work TOGETHER! 
4.) Legacy School: What is your teaching philosophy for Music Education?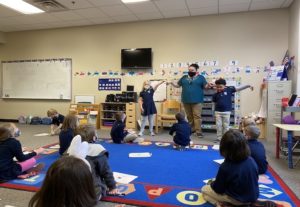 Ms. Fritz: As an educator, my philosophy is to teach my students how to become the best versions of themselves while cultivating well-rounded and productive individuals. Each school year, I strive to instill a lifelong love for music within every student by giving them the tools they need to grow musically and personally. I aim to help my students become ENDORSERS of MUSIC! 
5.) Legacy School: Do you design your curriculum? How do you decide what to include?
Ms. Fritz: The curriculum that I use for music is called GamePlan. I pull songs, activities, games, etc. from the curriculum to use in class. The best part about Legacy's music program is that I get to decide what to use from the curriculum to best fit my students' needs and interests. 
6.) Legacy School: How do you facilitate music lessons to keep students fully engaged?
Ms. Fritz: Music is such an inclusive subject that it's easy to find ways to relate concepts to real-life or pop culture. If I use songs that students listen to regularly, it makes learning about time signatures, dynamics, or rhythm WAY more fun. Certainly, fun is my most prominent tool to keep students engaged!  
7.) Legacy School: What is your favorite music lesson you have done with your students this year? (Early Childhood & Elementary) Examples?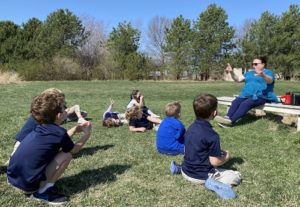 Ms. Fritz: One of my favorite Early Childhood lessons is about high and low sounds. During this lesson, we learn how to distinguish different pitches using animal sounds. For instance, a bird's tweet is high pitched, and a lion's roar is low pitched, etc. With this activity, the 'littles' have so much fun imitating animal sounds, and students remember the concept because they get to moo like cows and bark like dogs.
 The Elementary lesson that is my favorite is what I call 'Emotional Coloring.' I choose 3 or 4 very different sounding songs that convey different feelings; angry, sad, excited, scared, etc. I play each song for 3-5 minutes; during that time, students draw or color whatever the song makes them feel. This activity is challenging for some, which is why I find it so important. Music makes you feel things, and identifying those feelings as it relates to music is important. There's a reason a basketball team doesn't do their warm-ups listening to Celine Dion. Music motivates, drains, excites, depresses . . . it's POWERFUL!
8.) Legacy School: Legacy is on 11 acres of land, allowing students to learn outdoors. How do you utilize Legacy School's 11 acres of land to bring outdoor learning and music together? Examples?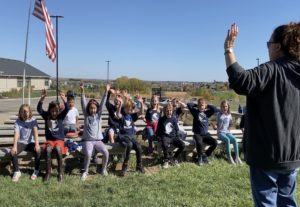 Ms. Fritz: Nature is full of music, and we can use nature to make music! For example, we can sit outside and listen to the birds and imitate the noise they are making. Or we can make tambourines utilizing items from the nature trail, such as sticks, pinecones, leaves, etc. Also, I constantly use the amphitheater as an outdoor classroom! Overall, the outdoors is a fantastic asset to teaching at Legacy School! 
Interview Takeaways
#1: Exposing children to music during early development helps the BODY and MIND work TOGETHER!
#2: The best part about Legacy's music program is that I get to decide what to use from the curriculum to best fit my students' needs and interests.
#3: Fun is my most prominent tool to keep students engaged!  
The Legacy Private School in Omaha Advantage | Private Schools Nebraska
A New Choice in Education
Take A Tour
Thank you for your interest in Legacy School. We encourage you to schedule a tour and see what makes our school unique! Classes, differentiated instruction, and high academic standards all in a private school setting. Our 11 acres of land provide an outdoor education you will not see anywhere else. We invite you to tour our school today!
Outdoor Education
Legacy School sits on 11 acres of land, allowing for expressive, outdoor educational experiences for all students. Our outdoor learning and playing space allow for real-world experiences that cannot be found anywhere else. We utilize our unique location, with 11 acres of land for outdoor education and outdoor play, thus a chance to spend more time in an outdoor education setting.
Legacy Scholarship
We are proud to unveil our new Legacy School Scholarship Program. Students who attend Legacy from 1st grade are eligible for a $500 scholarship towards higher learning. This scholarship can be used for college or trade school upon graduation from high school. We are very excited to give back to our students. We know each child has the potential to succeed at whatever goal they set for themselves. Can't wait to help your student celebrate their high school accomplishments and continue to their higher education.