In honor of Earth Day on April 22nd, students in Mrs. Barger's 2nd grade have been busy with a week-long STEAM-based Earth Day PBL! Project-Based Learning, or PBL, is a teaching method in which students gain knowledge and skills by working for an extended time (in this case, a week) to investigate and respond to an authentic, engaging, and complex question, problem, or challenge. Their question- What can you make to save the Earth?
Gearing up for a week-long Earth Day PBL
To begin their week-long Earth Day project, Mrs. Barger's 2nd-grade students started by collecting CLEAN trash/recycling over the weekend.  Then on Monday, students spent the day learning about the history of Earth Day (see below) and then brainstormed project ideas to answer their question, "What can you make to save the Earth?" While brainstorming ideas for their invention, students also began researching and collecting information to make a poster.
Utilizing the Engineering Design Process
Ask: What is the problem? Students asked themselves, "what can we make to save the Earth?"
Imagine: What ideas do you have? Students researched ideas on how to save the Earth.
Plan: Select a solution. Students picked one solution and began planning.
Create: Make the item. After researching and planning, students implemented their ideas and created an invention.
Improve: Are there any changes I need to make? Students made the changes necessary to better their inventions.
Present: Share the results. Students presented their inventions to the class.

Implementing the Subjects of Language Arts and Math
In addition to utilizing the Engineering Design Process, students learned new vocabulary words in Language Arts and collected data during Math. During Reading, they also read multiple Earth Day stories, including Super Manny Cleans Up! by Kelly DiPucchio, This Class Can Save the Planet by Stacy Tornio, The Great Kapok Tree by Lynne Cherry, and Tall Tall Tree by Anthony D. Fredericks.
Demonstrating their knowledge by creating an invention that saves the Earth
Students wrapped up their week-long Earth Day PBL by presenting their invention that will help save the Earth! So many fun, creative ideas will surely make the place we call home a cleaner, more sustainable place to live.
Having some Earth Day fun, too!
Of course, students had some Earth Day fun, too!  During Art, students went outside to truly appreciate nature and created Art with Mother Nature's finest media. Students also visited The Omaha Children's Museum and picked up trash on Legacy's property.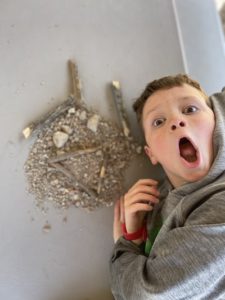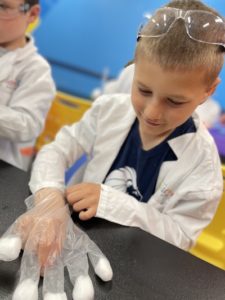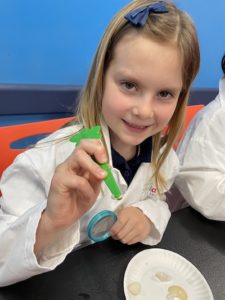 Dressing the Part
In addition, each day, they dressed the part.
Monday: Green Day- students wore green.
Tuesday: Blue Day- students dressed in blue.
Wednesday: Rainbow or Flowers Day- students wore all the colors!!
Thursday: Wild Side Wear Day- students dressed in their wildest prints and patterns.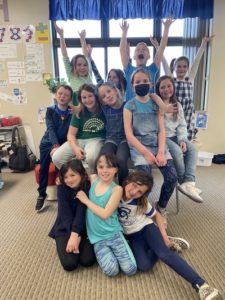 Plenty of Earth Day treats
Plenty of Earth Day treats were also involved!
Monday: dirt cups
Tuesday: fruit
Wednesday: multi-colored popcorn
Thursday: animal crackers

Earth Day History
What is Earth Day? Did you know we didn't always celebrate Earth Day? The first Earth Day was celebrated in 1970. We can thank many environmental activists like Rachel Carson and John Muir for bringing awareness to the need to protect our planet. It was decided in 1970 to hold Earth Day on April 22nd as the official day. The name Earth Day was decided because it sounded like birthday. Is Earth Day Earth's birthday?
Originally, Earth Day was only supposed to be held every 10 years, but after the huge success of Earth Day in 1990, it became a yearly event.
Earth Day reminds us that we need to be more aware of how we treat our planet. Humans cause pollution to the planet and the air around it. We cut down trees to use in products and build cities and towns, taking away the habitats of animals that lived there. Environmental engineers work very hard to create solutions to many of these problems so that we can enjoy our planet for many more years.
Some traditions on Earth Day include ringing bells and singing the Earth Day Anthem. Many people around the world hold community clean-ups on Earth Day. Some people plant trees, and some people do things like go without driving for the day. How will you do your part on Earth Day? What will you do? Make April 22nd a special Earth Day each year by being an Earth Superhero! – Bonnie Kirkley (2020)
The Legacy Private School in Omaha Advantage
A New Choice in Education
Take A Tour
Thank you for your interest in Legacy School. We encourage you to schedule a tour and see what makes our school unique! Small class sizes, differentiated instruction and high academic standards all in a private school setting. Our 11 acre campus provides an outdoor education you will not see anywhere else. We invite you to come tour our school today!
Outdoor Education
Legacy School sits on an 11 acre campus, allowing for expressive, outdoor educational experiences for all students. Our outdoor learning and playing space allows for real world experiences that cannot be found anywhere else. We utilize our unique location, with 11 acres of land for outdoor education and outdoor play, thus giving students a chance to spend more time in an outdoor education setting. New to Legacy School is a barnyard that holds both chickens and goats and a farm to table garden.
Legacy Scholarship
We are proud to unveil our new Legacy School Scholarship Program. Students who attend Legacy from 1st-5th grade are eligible for a $500 scholarship towards higher learning. This scholarship can be used for college or trade school upon graduation from high school. With that said, we are very excited to give back to our students as we know each child has the potential to succeed at whatever goal they set for themselves. We can't wait to help your student celebrate their high school accomplishments and for them to continue onto their higher education journey.