October is National Bullying Prevention Month. As we learn about what bullying is and the different ways it presents itself; we come together as school leaders, teachers, parents, and students to recognize and learn how to prevent it.
What is Bullying?
According to the American Psychological Association, "bullying is a form of aggressive behavior in which someone intentionally and repeatedly causes another person injury or discomfort. Bullying can take the form of physical contact, words, or more subtle actions." Bullying can be in the form of in-person or online.
Bullying is a distinctive pattern of repeatedly and deliberately harming and humiliating others. The intentional, continuous targeting of others differentiates bullying from typical teasing or aggression in children. Bullying is a very specific type of aggressive behavior.
Forms of Bullying
Bullying presents itself in different ways. It can be verbal and involve name-calling, making fun of others, or intimidation. Other forms include repeated threats of physical harm or physically attacking an individual.
Verbal Bullying
examples include:
name-calling
making fun of someone
laughing at someone
leaving someone out on purpose
starting rumors or telling lies about someone
trying to make someone feel bad about who they are
Physical Bullying
examples include:
hitting
pushing and shoving
fighting
tripping
yelling at someone
making rude gestures
taking or breaking another person's things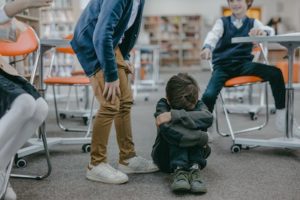 Cyberbullying
Cyberbullying is becoming more prevalent as young people utilize social media platforms to communicate or play games. It is easier to spread rumors or verbally attack someone using the internet because of anonymity or "hiding behind the screen." As a result, it is much easier to inflict pain on another when you do not have to look them in the eye.
Examples include:
Sending mean text messages
Posting statements online that are unkind or not true
Sending or posting pictures that are not yours to share
Making negative comments online about someone
Agreeing with someone who posts something hurtful

Ways to Prevent Bullying
Most often, bullying occurs in school or on the playground. The reward for a bully is the attention they gain from others around them, such as peers or bystanders. Therefore, it is crucial for all parents to teach their children not to remain silent or complacent when they witness bullying.
More ways to prevent bullying:
Monitor your child's screen time. Know the apps they are using and set clear boundaries and rules for internet usage in your home.
Encourage your child not to "like" or comment further on online commentary which is harassing towards another.
Empower your child on how to handle a bully and to stick up for themselves.
Help your child understand bullying, which consists of continuous, repeated threats or verbal assaults.
Discuss being a bystander to a bully. A bully craves the attention of an audience. Tell your child to intervene safely. If one person steps up, more are likely to do the same. If they are not confident in trying to intervene, encourage your child to seek an adult's help and show kindness towards the targeted child.
Inform your school or child's teacher. Create a plan of action.
Check in with your child often and ask questions.
Model kindness and respect at home.
The Legacy Private School in Omaha Advantage
A New Choice in Education
Take A Tour
Thank you for your interest in Legacy School. We encourage you to schedule a tour and see what makes our school unique! Small class sizes, differentiated instruction and high academic standards all in a private school setting. Our 11 acre campus provides an outdoor education you will not see anywhere else. We invite you to come tour our school today!
Outdoor Education
Legacy School sits on an 11 acre campus, allowing for expressive, outdoor educational experiences for all students. Our outdoor learning and playing space allows for real world experiences that cannot be found anywhere else. We utilize our unique location, with 11 acres of land for outdoor education and outdoor play, thus giving students a chance to spend more time in an outdoor education setting.
Legacy Scholarship
We are proud to announce Legacy School's Scholarship Program. Students who attend Legacy from 1st-5th grade are eligible for a $500 scholarship towards higher learning. This scholarship can be used for college or trade school upon graduation from high school. With that said, we are very excited to give back to our students as we know each child has the potential to succeed at whatever goal they set for themselves. We can't wait to help your student celebrate their high school accomplishments and for them to continue onto their higher education journey.