Have you ever walked into a Starbucks and analyzed how many seating options there are? They are endless! From stools to oversized chairs, tables high to low, you have a choice where you want to sit. What if we applied this same seating concept in the classroom? Many classrooms have, and Legacy is one of them!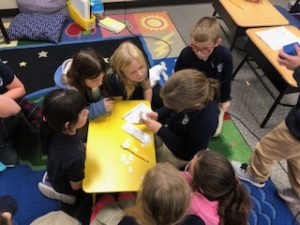 Mrs. Jennifer Jensen, multi-age teacher, began the school year planning and redesigning the seating in her classroom. She acknowledged that if she truly wanted to prepare her students for the future, she must give them an environment that reflects life outside of the classroom. With this in mind, she created a space that gives students the ability to choose their best learning spot whether that be near the ground on a pillow, stretched out on a futon, cozied up on chair, or sitting at a round table.
Why does Mrs. Jensen incorporate flexible seating in her classroom? Below are the 5 benefits to flexible seating.
Choice
When we walk into Starbucks, the choice is ours where to sit, giving us some degree of control over our environment. The same works in the classroom. Students feel empowered by having a choice. They get to choose where they work best.
Community
Traditional desks have a "mine" effect and can make students territorial over their space and supplies. On the other hand, flexible seating encourages students to share throughout the day, as they move from one spot to another, giving the classroom a community feel.
Comfort
We've all been there. Sitting in one chair for too long, awkwardly trying to reposition our bodies so we feel more comfortable. When we feel uncomfortable, we are likely to be thinking about how uncomfortable we are feeling rather than about the task at hand. The same goes for a student. Sitting in the same desk for over 8 hours makes focusing almost impossible.With flexible seating, students are encouraged to move around and find their best spot to stay focused and productive.
Collaboration
Just like Starbucks where quick across the table meetings can take place, flexible seating in the classroom allows students to quickly pair up and work in small groups. This gives them the ability to work together without moving pounds of desks together.
Commitment to Learning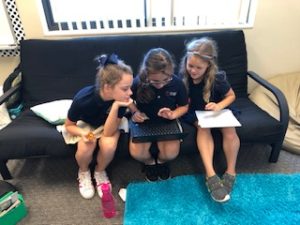 By creating a classroom that is more "ours" rather than "mine" students can take responsibility for their learning. With that in mind, the teacher always puts academics first. Therefore, if a student picked a learning spot that they thought was their best learning spot, but the teacher sees differently, then a different choice is to be made. The premise on flexible seating is giving the student a choice, but making sure they make the best decision to help them learn effectively.
The Legacy Private School in Omaha Advantage
A New Choice in Education
Take A Tour
Thank you for your interest in Legacy School. We encourage you to schedule a tour and see what makes our school unique! Classes, differentiated instruction and high academic standards all in a private school setting. Our 11 acres of land provide an outdoor education you will not see anywhere else. We invite you to come tour our school today!
Outdoor Education
Legacy School sits on 11 acres of land, allowing for expressive, outdoor educational experiences for all students. Our outdoor learning and playing space allows for real world experiences that cannot be found anywhere else. We utilize our unique location, with 11 acres of land for outdoor education and outdoor play, thus a chance to spend more time in an outdoor education setting. New to Legacy School this year is a barnyard that holds both chickens and goats and a farm to table garden.
Legacy Scholarship
We are proud to unveil our new Legacy School Scholarship Program. Students who attend Legacy from 1st grade are eligible for a $500 scholarship towards higher learning. This scholarship can be used for college or trade school upon graduation from high school. We are very excited to give back to our students. We know each child has the potential to succeed at whatever goal they set for themselves. cCan't wait to help your student celebrate their high school accomplishments and continue to their higher education.