We're smack dab in the middle of summer! And what better way to cool off than to splash into a cold, refreshing pool. But, wait before you do so, it's important to keep these pool safety tips in mind to keep you and your family safe during these hot summer days.
Pool Safety Tips for Omaha Parents and Students
1.) Never leave a child unattended in or near water.
Keep your eyes peeled whenever children are in or near water. Put down the phone, magazine, newspaper, or whatever else may be keeping your eyes off your swimmer. Even when there is a lifeguard present, it is always a good idea to keep watch at all times.
2.) Teach children how to swim
Teaching children how to swim will enable them to be confident, skilled swimmers. Enroll them in a local swimming lesson program such as Aqua Tots Swim School, DiVentures, or Swimtastic. Attending swimming lessons is not only fun, but is lifesaving skill.
3.) Teach children to stay away from drains
Advise your children to stay away from drains, especially in shallow pools and spas. Doing so, will save your child from getting their hair, limbs, or bathing suit stuck in the drain.
4.) Know how to perform CPR
Attaining your CPR certification is easy and it can save someone's life. Training is offered by the local American Red Cross or through one of many independent emergency training centers in and around Omaha.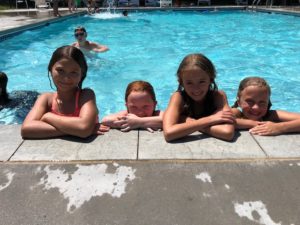 More Pool Safety Tips
For more information about water safety visit: https://www.poolsafely.gov/parents/safety-tips/ or https://www.reviews.com/blog/drowing-and-liability-prevention-guide/
The Legacy Private School in Omaha Advantage
A New Choice in Education
Take A Tour
Thank you for your interest in Legacy School. We know you're looking for the best private schools in Omaha. We encourage you to schedule a tour and see what makes our school unique! Classes, differentiated instruction and high academic standards all in a private school setting. Our 11 acres of land provide an outdoor education you will not see anywhere else. We invite you to come tour our school today!
Outdoor Education
Legacy School sits on 11 acres of land, allowing for expressive, outdoor educational experiences for all students. Our outdoor learning and playing space allows for real world experiences that cannot be found anywhere else. We utilize our unique location, with 11 acres of land for outdoor education and outdoor play, thus a chance to spend more time in an outdoor education setting. New to Legacy School this year is a barnyard that holds both chickens and goats and a farm to table garden.
Legacy Scholarship
We are proud to unveil our new Legacy School Scholarship Program. Students who attend Legacy from 1st grade are eligible for a $500 scholarship towards higher learning. This scholarship can be used for college or trade school upon graduation from high school. We are very excited to give back to our students. We know each child has the potential to succeed at whatever goal they set for themselves. Can't wait to help your student celebrate their high school accomplishments and continue to their higher education.